House-to-house Search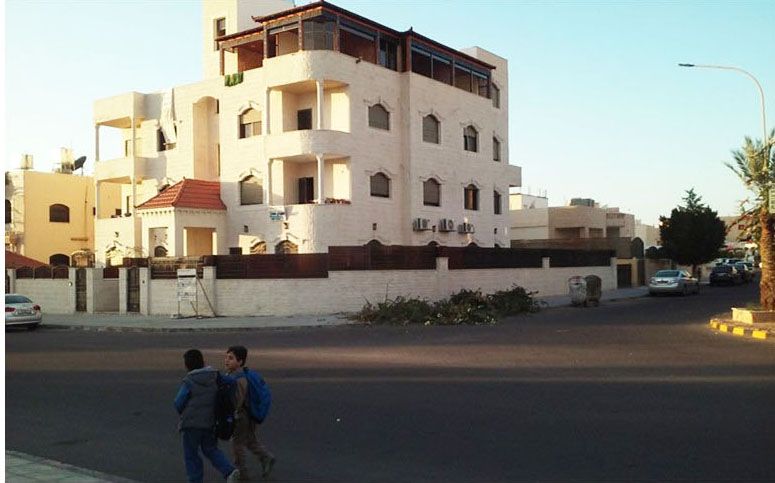 This blog post is about housing in Jordan. If you move there, what will you find in the housing market?
We visited Jordan over a year ago to find out several things.
What kinds of products could we buy there and not have to bring with us?
What was the culture like?
Who were community members who could help us acclimate when we moved?
What types of housing were available?
All housing in Aqaba, the city where we will live, looks like apartment buildings. Sometimes, many people live in a building—usually three stories, no more than four. A family with many children or generations will occupy the entire edifice or villa, each generation living on a separate floor.
We met a young American family of nine who live in a three-story villa with a large shady yard (very unusual) and an outbuilding they recently converted to guest accommodations. They made it a family project and wrote about it on their website.
There are courtyards around the buildings. Gates protect the residents. Often there is a long walkway leading up to the home's door. It felt more secure to me than the wide-open lawns of America where someone can walk right up onto your porch.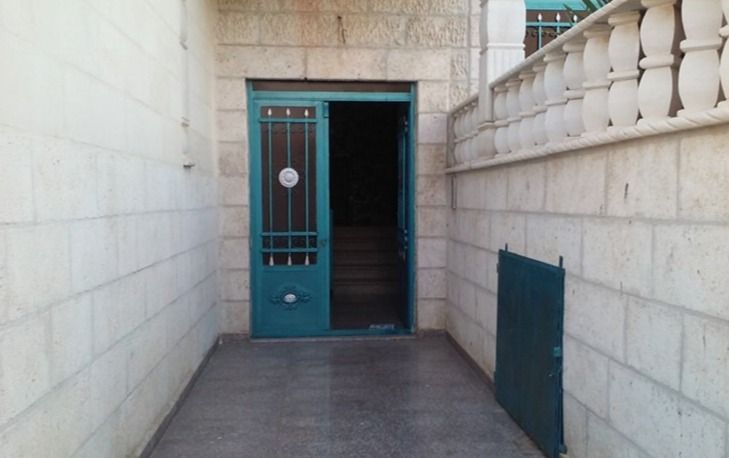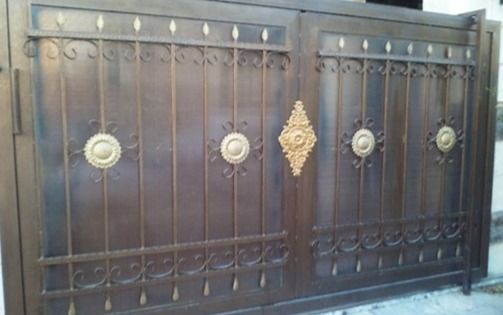 Here is a three-story structure where some of our new friends live—one family on each floor. None of them have children.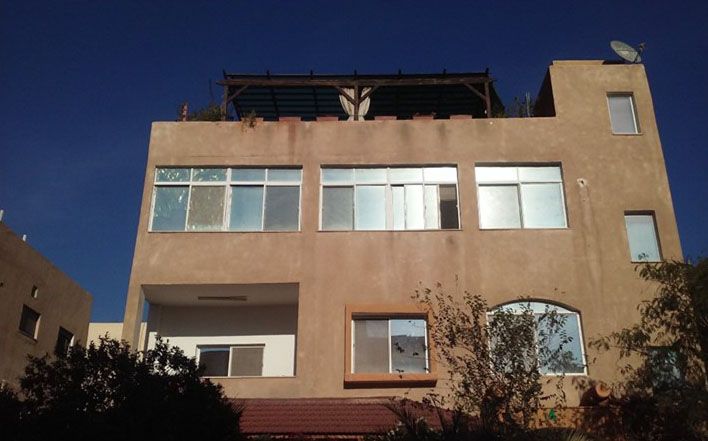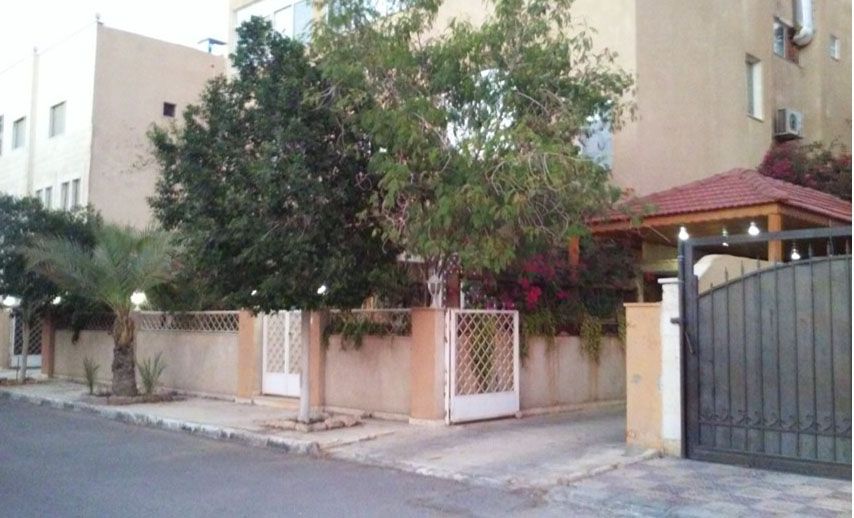 The ground-floor couple has the use of a yard—if you can call it that. It is an area about six to eight feet wide around two sides of the building in which a few small trees are planted and some flowering plants and vegetables. All yards are enclosed by stone fences high enough that you can't see your neighbors. No back-yard chatting in Aqaba.
Here is a view of their front yard from the screened-in front porch.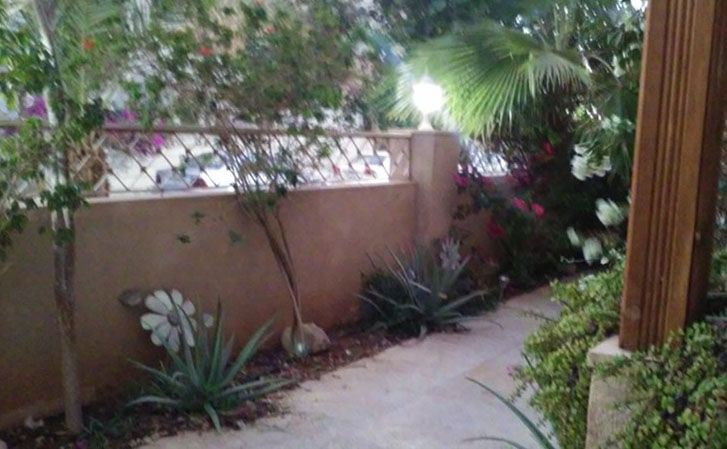 Some apartments have elevators, but this one had an enclosed stairwell as you can see on the right. (Notice the satellite dish on top.)
I wish I had a recording of the tunes we sang in this stairwell. After one of our gatherings, four of us launched into song as we left. The acoustics were awesome. We were soundly impressed. Surely, we would win at Jordan's Got Talent or get acceptance to the Moslem Tabernacle Choir.
The second story apartment has a small balcony which one can enjoy in the late fall and winter.
The third story had a large balcony, but the family enclosed it with all the glazed windows and made it one large room. They did not install the roller shutters many people use to conserve coolness in their home and shield them from the merciless summer heat. Here is a photo from the inside off an apartment where you can see how the shutters on the left greatly cut down the heat and glare from the windows.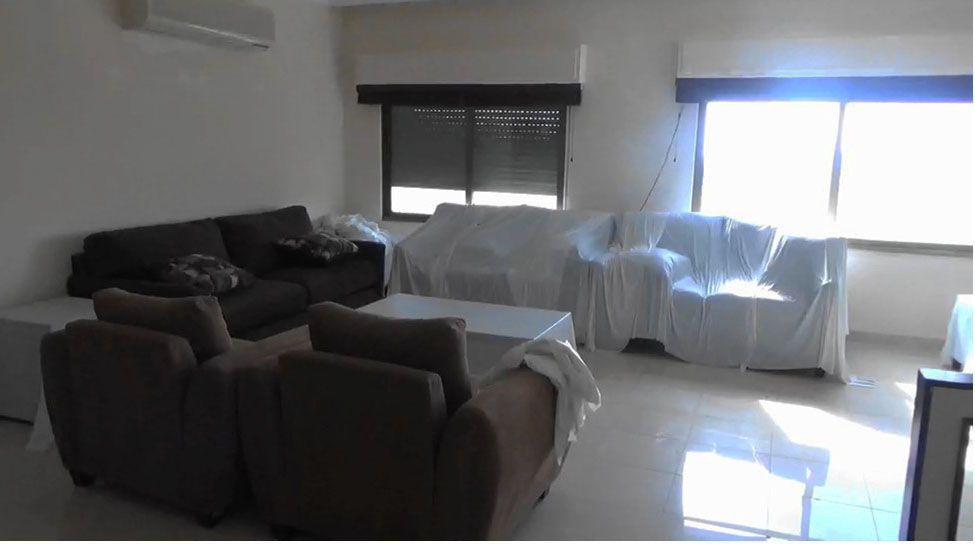 They also have access to the rooftop. You can barely see the shade cloth on the wooden structure they built to make a garden. We were there in late November, and the weather was beginning to cool down enough that they could grow plants again. Summers are way too hot for a home garden.
Fortunately, most of the farms growing produce are in the northern part of the country with milder temps, so veggies are available year-round. Maybe not cool weather plants such as lettuces. They come when the weather cools down.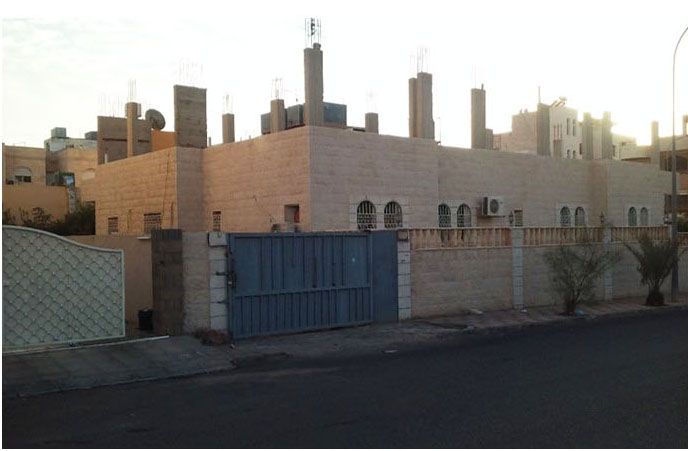 We drove around Aqaba looking at the various buildings and noticed rebar sticking up on top of many of them. Our host explained buildings are taxed on the number of stories they have. To avoid the taxes, folks build as they have need. As we mentioned in earlier blogs, you pay as you go in Jordan. There is no such thing as a mortgage.
In the community we will be part of, everyone rents their home. And FYI, rent is paid a year in advance. That's right. No monthly rent payments. A year at a time.
You must be a resident for five years before you can buy property. I'm not sure we will ever want to be property owners. That's a big chunk of retirement money.
If you move to Jordan, where will you live?
The thing that will determine where you live your income—how much and from whence. If you transfer to Jordan as an employee of a company with an office there, you will probably reside near your work. If you earn via the internet or retirement benefits, your options are broad. You may live anywhere you want to. Expats often select cities and sometimes areas within cities where there are others like themselves. For instance, west Amman is where many westerners reside.
We plan to live in Aqaba—at first, anyway. It has many sections of town, which are numbered. The streets are named—although that is fairly recent— but there is no mail delivery. Everyone treks downtown to pick that up after it has been opened and inspected.
---
Acquaintances, friends, the grapevine. That is what you use to find housing. There is no such thing as real estate agencies or multi-list.
One person told us they called a taxi, told the driver what they were looking for, and asked him to show them apartments he heard were available.
No one has ever claimed the Middle East is efficient.
Compared to American Homes
You will find no houses that even remotely resemble a home in the suburban United States. Certainly not what we are used to in Oklahoma with large lawns, driveways, and open access to visitors. Since there are few large trees, wood is very expensive in Jordan. Houses are made of concrete block and plaster, concrete panels, marble floors, other stone products, and metal.
Here are a couple of beautiful examples of an apartment building and a villa.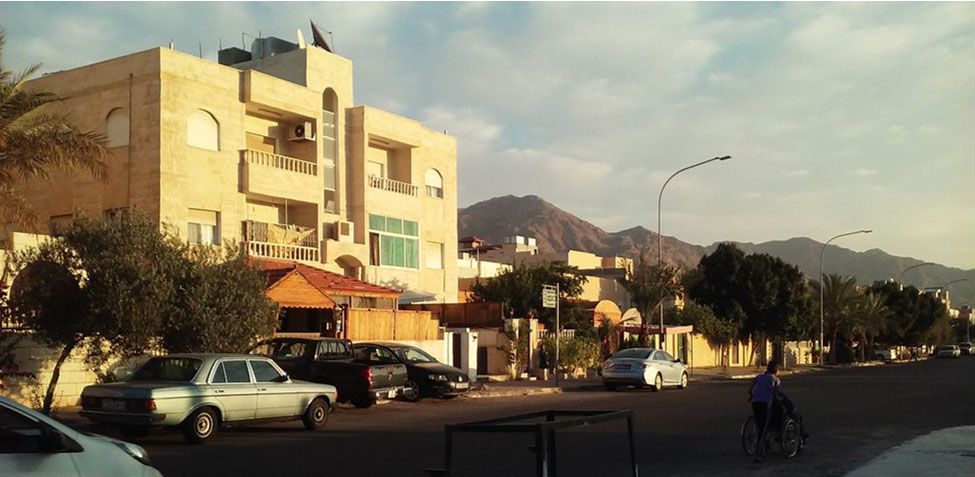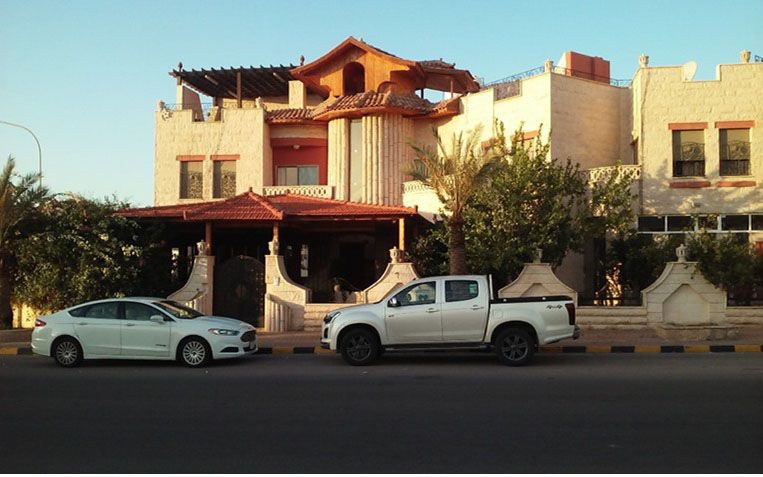 What about stairs?
For some people, negotiating stairs is impossible. Almost all apartments in Aqaba are multi-story and multi-family dwellings. In your search, you may wish to make the stipulation for a place on the ground floor. The first floor may be below ground level, and access may be either by a sloping walkway, driveway, or stairs. Some apartment houses have lifts (elevators) but not very many.
What will your neighbors be like?
Like anywhere else, you can seldom choose your neighbors. Some will be neighborly, and others won't. Usually it's up to you to get off on the right foot by being a good one yourself. Make it your intentional goal.
We found almost all Jordanians to be extremely friendly. But you will find an occasional grump.
What about A/C?
The late fall, winter, and early spring in Aqaba are the most comfortable times of the year. Summer heat can be brutal. When the daytime temperatures reach the 110-degree range, most people stay inside. Outside activities are reserved for early morning and nighttime.
Air conditioning units in the apartments we saw are installed in each room of the home. In order to manage the heat and the cost of electricity, many turn them off in the rooms least used.
Since hot air rises, the A/C units are mounted high on the wall where they can do the best job. That location also leaves more space for arranging furniture. They look similar to those we are accustomed to seeing in hotels in the US. The thermostat control is mounted conveniently on the wall at eye level. See the previous photo of the electric shutters.
Will electrical appliances from the US work?
While we were standing in the appliance department of the large Carrefour Market in Aqaba, I asked our host this question. He told me that when they first came to the city twenty years ago, they had the same concern. But over time, they found that some of them still work. Then he cautioned that the exception was the electric clock. The ones that are designed to work on 110 volts like in the US had to be plugged into an electrical outlet through a converter and would NOT keep the correct time. With that in mind, only battery-powered clocks and those which operate on the Jordan power system of 220 volts will work properly.
He encouraged us to bring any appliance we had, whether large or small. It will not be perfectly suited to the differences in voltage and cycles even when run through a converter, but it may last a good while and keep you from having to buy all new appliances at once.
Electrical converters are necessary for any device that is not 220 voltage. If you plug a 110-volt item into a 220-volt outlet, you'll only get the a tsstttt sound and smell the electrical burn-out. You can throw that one away. You may purchase electrical converters in Jordan, but it is better to bring some with you for all your 110-volt appliances.
Our friend told us not to buy Chinese converters because of their low quality. We plan to buy American and have enough to plug-in anything we bring.
Will you be able to buy appliances locally?
Yes. Washers, dryers, flat-screen TV's, mixers, blenders, irons, computers, printers, cell phones, and many more things are readily available.
What about home furnishings?
Take a look at some of what is available.
We were advised not to buy couches. Our friend said they are not comfortable.
How good is the internet?
A friend who lives in Aqaba indicated there are a few providers there, but the service is less than stellar. It depends on where you live in the city. He wasn't happy with his. In fact, he had planned on part of his livelihood coming from teleconferencing with others around the world. It just wasn't possible with the service he had available.
Will your cell phone work well?
Cell phones work much the same as in the US. I live in a rural area, and our service is spotty. I can't imagine Aqaban internet and cell phone service being a lot worse than what we are used to here.
Will I be happy in my new home country?
Whether you move across the street or around the world, your emotional experience and time of adjustment are predictable. This fact is extremely helpful in making the transition.
For the first month, you can expect honeymoon euphoria as you enjoy the fact that you accomplished a huge goal. With that delight, you will also be physically tired every day while you put all your belongings in place.
As you make adjustments to literally everything in your life such as time change, food, transportation, neighbors, utilities, worship, friends and family and realize that truly nothing is the same, the real emotional struggle begins. Typically, a downward spiral starts and lasts until about the sixth month. Then you gradually regain equilibrium. After the first year, you will adapt to your new life with a more settled feeling.
During this transition, it is important to stay socially involved with those important to you and even make some new friends. You should tell them up front about this predictable, emotional cycle you are in so they can help you adjust to your new home.
If you understand this process, you can even encourage yourself to do things that bring normalcy to your life such as learning the native language. Be proactive.
If happiness for you means COVID 19-free, think about this: Aqaba had ZERO cases during the lock-down.
Entertaining
We have talked about hospitality and entertaining in previous blog posts, I won't belabor the point here. But most Jordanian home have a formal living room that is reserved for guests. The family doesn't mess it up or even go in there unless they have visitors. Neither do the guests go into any other part of the house. This special room is usually the most elaborate and well-furnished in the house.
Schools: Primary, secondary, university, technical
Americans with children face a dilemma in Jordan. First of all, public schools there teach in Arabic, and secondly, they are not that good. Many Jordanians pay to send their children to a private Catholic school.
Although it is mandated to teach English in the public-school system, only eighteen percent of students can pass an English proficiency exam when they graduate.
Homeschooling is a great option. There are many places you can get graded curriculum. If you can find a publisher online that will allow you to download the lessons, so much the better. Shipping anything to Jordan is expensive.
Private schools are taxed by the government, and fees can be high. But most expatriate children from countries outside the Middle East are educated privately. Education is compulsory from age six to fifteen.
Aqaba International Schools is based on the British educational model. Click their short video where the heads of departments tell about the school.
This introduction is not a recommendation. If you need education for your children, there is much to draw from with an internet search.
Aqaba University of Technology, overlooking the Red Sea, received the first group of students in 2015 in the Faculty of Administrative and Financial Sciences and the Faculty of Information Technology.
Interested? Here you can get an overview and ask questions.
Of course, online education on virtually any subject is available with an internet connection.
If your child is into sports, you probably will have to wait until you are in-country to work that out.
---
Now here's the question you all want to know: How much does an apartment cost in Jordan?
I can't tell you. There is a wide range of prices. I can say this: We asked our host about the cost of living in Aqaba—which is very different from living in expensive Amman. He said, "You can live like a king on $2,000 a month.
We looked at one 3,000-square-foot apartment that rented for $975 a month, not including utilities. It was very nice, but the layout did not meet our needs.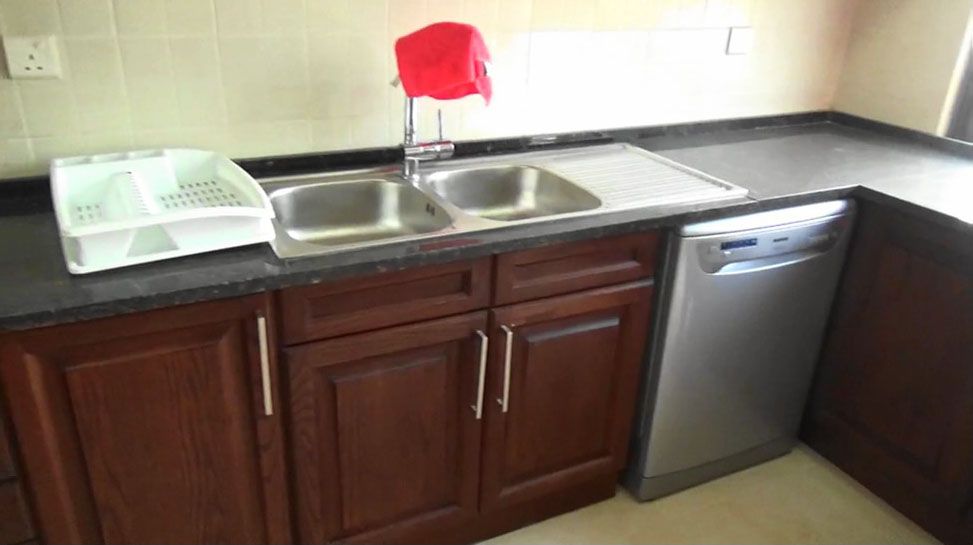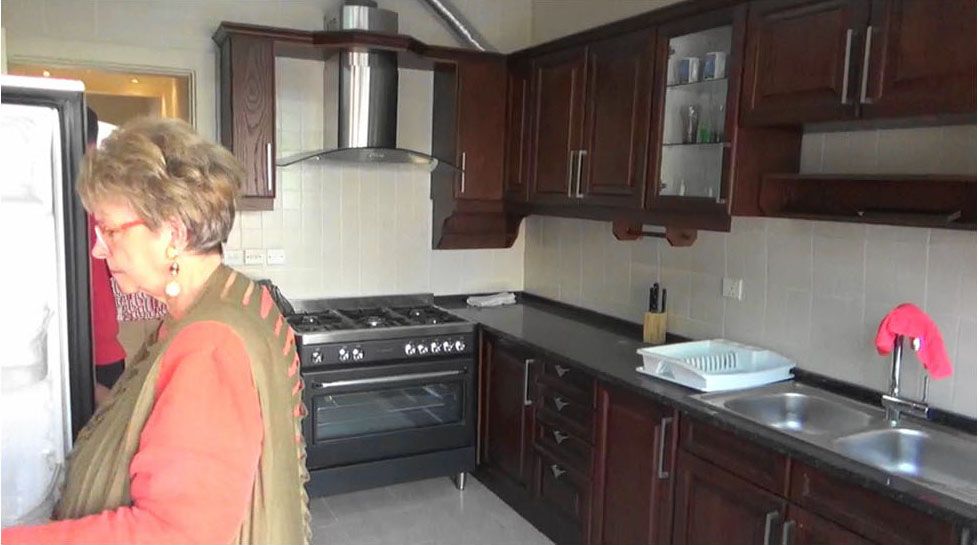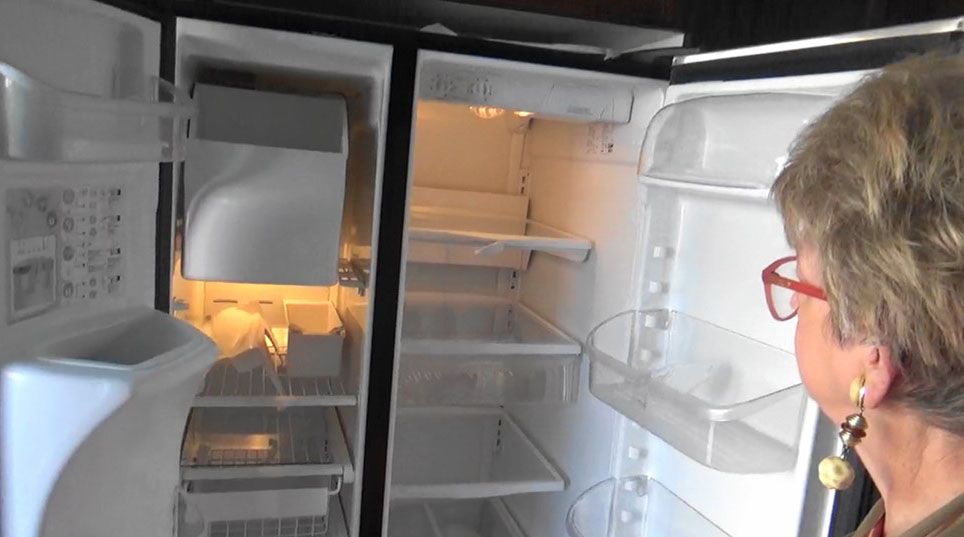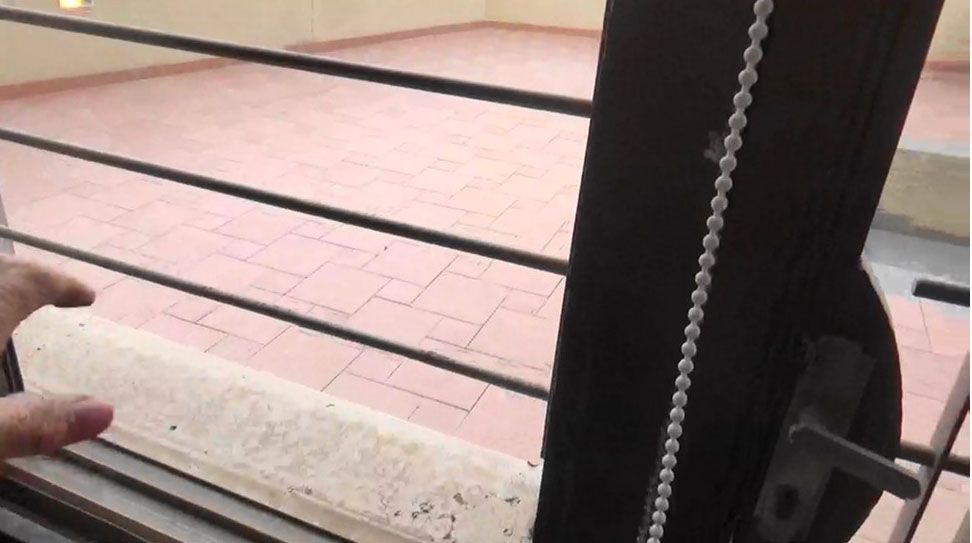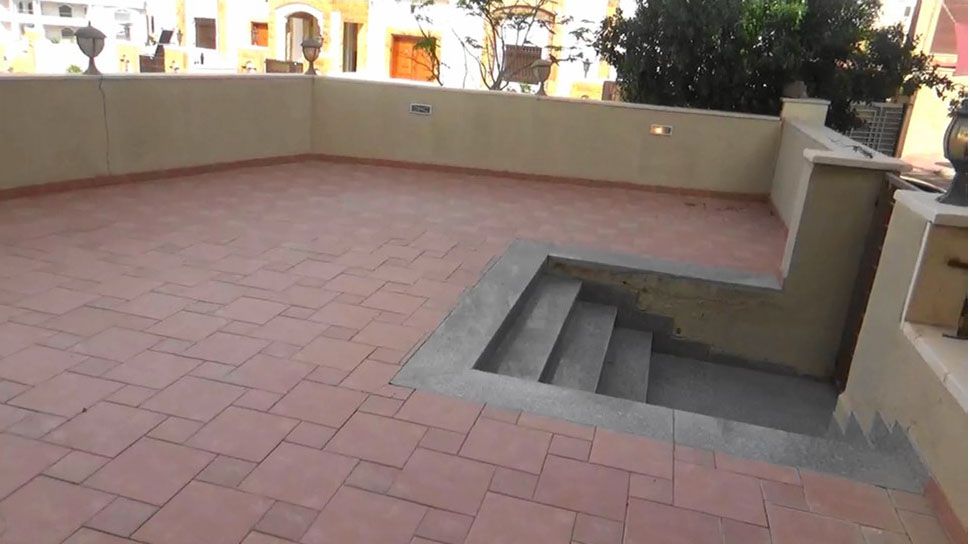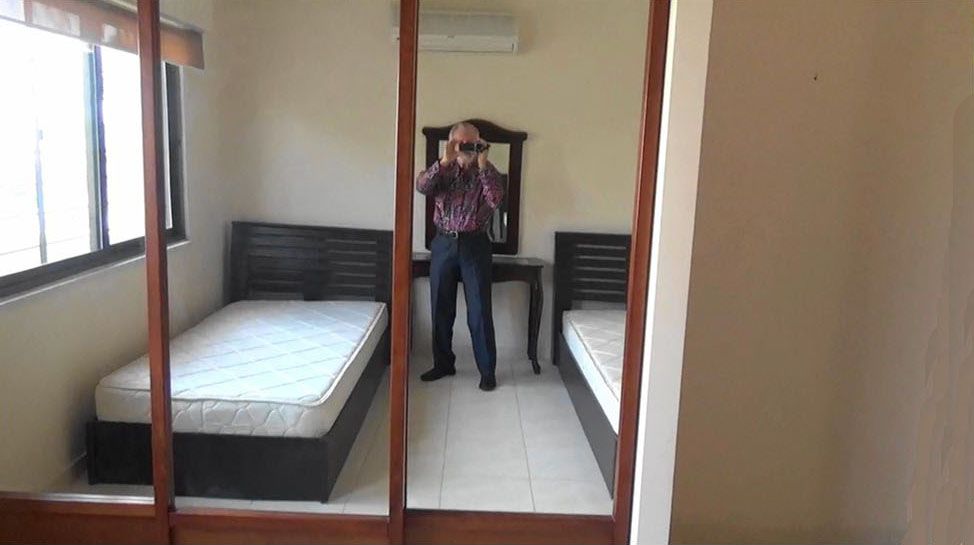 Here is a brand-new apartment we looked at. It was $900 a month with an outstanding view of the Gulf of Aqaba and Eilat, Israel across the water. It had a beautiful balcony that would be perfect for morning coffee. At its entrance was a spacious entertainment area. It had the standard marble floors throughout and many amenities. It was even furnished. But it was too small for our needs.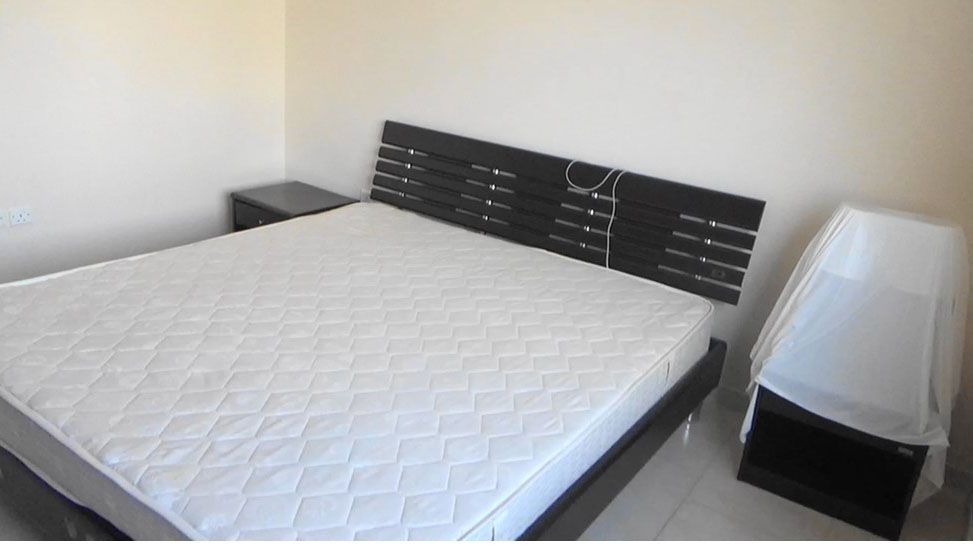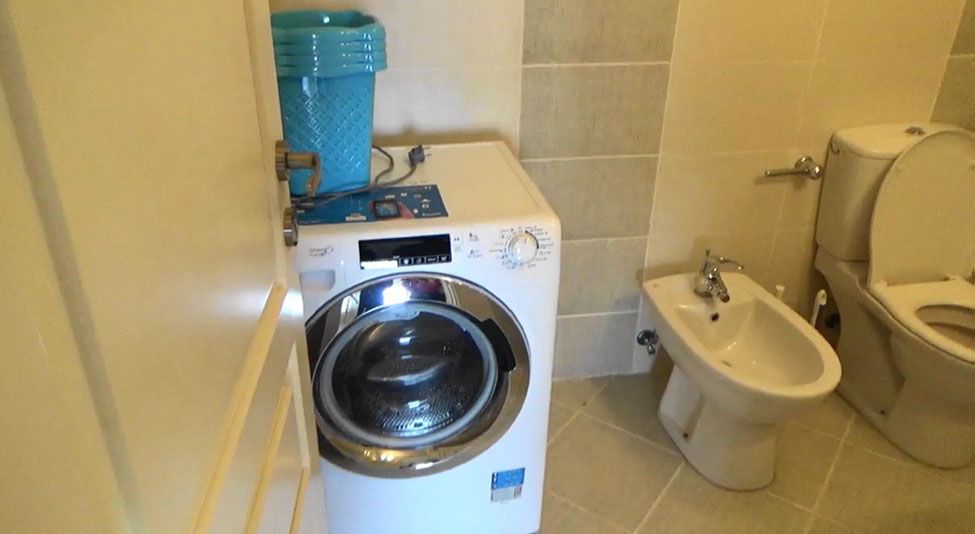 Anita has a lot of junk … stuff … interests that require many pieces of equipment and supplies (four sewing machines, enough fabric to open a store, a lifetime supply of yarn, large giclee printer, huge light table for art, scrapbooking goods, art materials, four computers, office furniture, and so on …). Plus, we plan to provide room for those coming on a discovery tour, so three small bedrooms didn't work for us.
I'm going to have to turn one bedroom into a closet for my sweet wife. Jordanian homes don't have closets. They have armoires. Anita doesn't do armoires.
Honestly, we'll need a large villa. Please click the "Donate" button to help. (smile)
2022 UPDATE: We live in a nice neighborhood, convenient to everything, which is about 2,150 square feet with an outdoor courtyard and raised-bed garden. It is on the ground floor and was the owner/builder's personal home before he moved to Amman. It has a lot of amenities.
We pay  583 JD a month ($822) plus an annual charge of $493 for the onsite caretaker's services. Our electric bill has averaged  $121.54 for the past ten months. That will rise a little because the next two months are in the extreme heat of summer. but I haven't paid less than $165 for electricity in the last nineteen years. Internet is $57.25 a month. Again, I paid three times that for below-par service in the U.S. My cell phone bill is $18.49 a month (Anita's is free)
---
Satisfaction in a move is more the result of a good attitude than anything else. If you remember why you moved and why it is valid, embrace it and don't let go.
See you in Jordan.
Next time, I will be talking what in the world do people wear in Jordan?
Al