We Celebrate An Anniversary
Al ordered shish taouk with mushroom sauce, and I had chicken curry.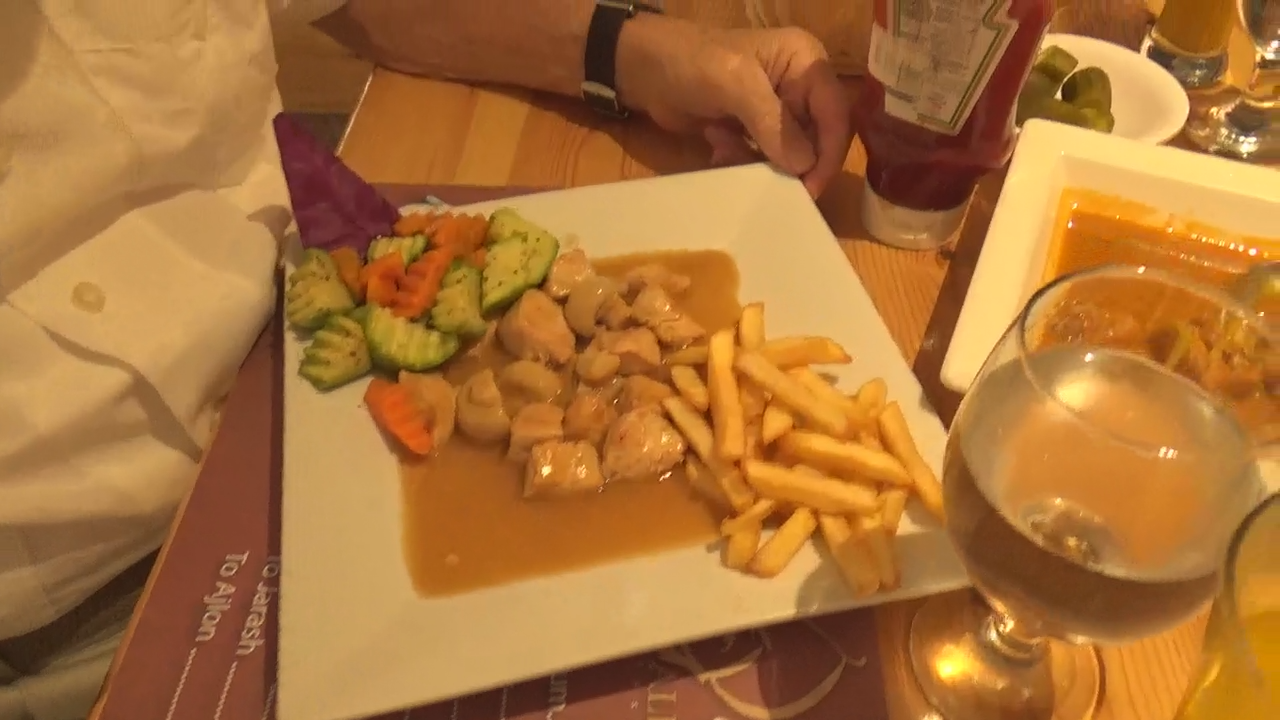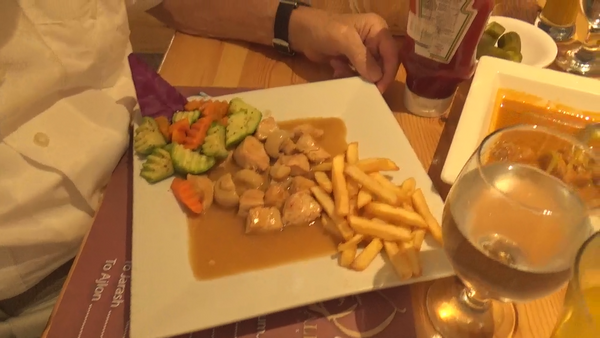 Fifty-four years ago this evening, we went on our first date to a Chinese restaurant in Tulsa, Oklahoma. Five months later—to the day—we married and spent the next thirty-two years in Tulsa, where we raised a family. We had no thought that fifty-four years later we would celebrate this anniversary in Aqaba, Jordan.
Isn't life strange?
Last year we ate at a restaurant specializing in fish dishes. It was good, but this time, we planned to dine at a new place recommended by friends named Syrian Palace. They said it was between Ali Baba's Restaurant, which had a sit-down air-conditioned dining area, and Arab Moon, an outdoor eating place under an enormous spreading tree. There were only a couple of locations where the Palace could be, but we never found it. So we trekked in 110° heat a block back to Ali Baba's.
They have a picturesque outdoor dining porch where we love to eat in the winter, but it was too miserable to sit there today.
Our Meal
Al ordered shish taouk with mushroom sauce, and I had chicken curry. We added an Arabic salad of lettuce, tomatoes, and cucumber with lemon and olive oil dressing. Of course, the ever-present basket of flat bread came with the meal. Mango juice for me and orange juice for Al—fresh-squeezed. He finished with scrumptious vanilla bean ice cream and rich kanafe, a sweet pastry filled with mozzarella cheese and soaked in orange blossom and rose water syrup. Click here for the recipe.
Our meal cost $52.17, including 20% tip for an attentive server. Ali Baba's is expensive. That's why we don't eat there very often. It's all about the outdoor ambience. As you will see in the video, when you walk indoors, it looks more like a 1950s cafe.
A much larger dining room is at the top of a ninety-degree corner staircase. Most people eat out in the evening. Stores and restaurants are usually open until 1:00 a.m. We don't like to eat past 7:00 p.m., so we braved the heat.
Our Anniversary
There were only two other customers in the small ground-floor area, young women from the West, wearing swimsuit coverups over their bikinis. They may have been American. I overheard one say, "Dude, you know I've got to be in L. A. next week." But the other also spoke Arabic to the waiter. As they left, she said to me, "You look lovely." I thanked her, and she turned to Al. "You too."
The other woman said, "It looks like you are celebrating something."
"It's the fifty-fourth anniversary of our first date," I replied.
Of course, they were impressed. There are not many of us old codgers whose marriages make it to the half-century mark these days, more's the pity.
Our Taxi Driver
After we ate and sauntered down memory lane, Al called Mohammad, one of our five favorite taxi drivers, to pick us up. He's the only one who doesn't speak much English, but all the rest were busy. We told him we were at Ali Baba's, and he said, "Ten minute." It's always an adventure to try to get across a sentence to Mohammad. We're never quite sure he understands what we say.
We stood outside for a little while, and our waiter came out to entreat us to wait inside in the air-conditioning. "I will watch," he said. He didn't have to twist my arm. I moved just inside the glass door so I could spot Mohammad. When his ten minutes turned into twenty, the waiter stepped outside to beg Al to wait inside where it was cool. He didn't resist that time. It was HOT.
Mohammad called and said he was there. But he wasn't. Somehow he didn't know where "world famous" Ali Baba's on the main thoroughfare was. The server took the phone and rattled off something in Arabic. Five minutes later, Mohammad pulled up to the curb, and the waiter scurried to open the car door for us.
That's service.
Check out the short video we made, along with a clip we shot a few weeks ago of the interior of a produce market where we frequently shop.
If you want to be notified when we post a new blog, please subscribe.
Al and Anita